5 Questions To Ask When Choosing A Cabinetmaker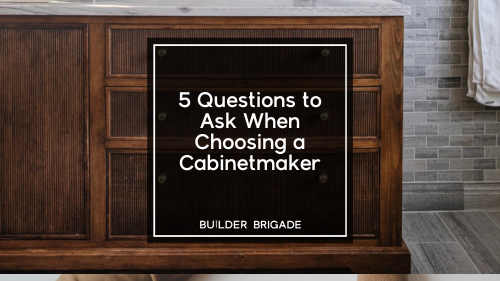 Author: Corbin Clay
There are a lot of good, honest people building custom cabinets throughout North America. Unfortunately, there are plenty of the bad ones, too. We'll help you identify red flags and make sure you're working with one of the good ones!
Photo Credit: Chris Loves Julia
1. Are There Clear Signs Of  Professionalism?
We want to see excellent Google reviews (no less than 4.7 stars), a Houzz profile, Yelp... anything public that is open to honest customer reviews. Additionally, when you call, who answers? How do they answer? "Y'ello... ... ..." or "thank you for calling Quality Cabinets and Trim, my name is ___, how may I help you?". Do they have a clear process in place for estimating, establishing timelines, clear communication? If you set appointments, do they show up on time? Are they respectful of your time and curious about your project (as opposed to considering it an inconvenience). None of the above is difficult, or expensive. It's a matter of priorities: do you feel that their customer's' experience is a priority to them?
2. Do They Keep A Clean Facility?
If they don't think it's important to keep their own "home" clean, why would you expect them to treat your's any differently? It isn't important to have a 5000+ SF facility with state-of-the-art equipment, there are plenty of 1 and 2-person shops doing excellent work. But it is important to see that cleanliness and organization are front-of-mind in everything they do.
3. What Is Their Process For Approving Door and Finish Samples?
Getting the perfect finish is a very important part of the process and sometimes overlooked. When considering different shops, ask do they have, or are willing to produce, finish samples of the colors/stains you're wanting?
Do they have a showroom or samples of past projects? It's by no means necessary to have a beautiful showroom, but a good cabinetmaker will want aligned expectations from the beginning with his or her clients. They will see the importance of getting everyone on the same page with regard to wood grain (rift sawn vs flat sawn, etc.
), finish type, door style, and any other detail specific to your project. We used to say in my shop "hope is not a strategy". Let's not
hope
everything turns out the way we're expecting, let's
make sure
of it.
4. Do They Use Professional Grade Cabinet Coatings?
Or, if delivering unfinished, insist you work with a finisher that does? I cannot stress this point enough. Not only will this ensure you're getting the most durable finish available, but it also suggests they are willing to dedicate time and resource to learning about best-practices and doing everything possible to provide their customers with the best available.
Here is a recent blog we wrote
that gets into the basics of what good cabinet finishes are, their benefits, and why it's so important your new cabinets are finished properly.
5. Do They Do Their Own Installations?
If not, do they have a reliable installer that does? You can have the most beautiful custom cabinets look terrible if the installation is not done properly. Simply leaving it up to the builder or GC on the project to do the installation usually isn't sufficient. Similar to the samples and aligning expectations: good cabinet shops will want to ensure the final result is something not only the customer will love, but that they can be proud of.
Consider Local
If you have a design / layout from a box store, designer, or distributor, it's certainly worth emailing it over for an estimate from a local shop. Custom doesn't always mean more expensive, and keeping the business within your community is great for the local economy. I was once a small, local shop and needed people considering me and my business for their home.
If you need help vetting a specific cabinet company, deciphering those beautiful finishes on Pinterest so you know exactly what to ask for, preventing a potential disaster
,
reducing costs, or anything else cabinet-related, please consider booking a
Cabinetry Consultation
with us. We're here to help make your project goes as smoothly as possible!
Want more from the Author...?

Corbin Clay