Cabinet Finishes 101: Read this before ordering your cabinets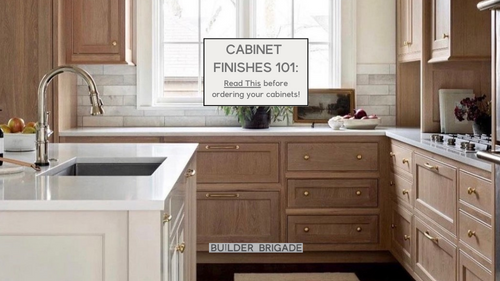 Author: Corbin Clay
There can be a lot of confusion around all of the technical terms used in cabinet finishes. We'll break down each concept so you'll know exactly what's what when it's time to order your new cabinets.
There are two main types of wood finishes: penetrating finishes vs topcoat finishes:
Penetrating Finishes 
This refers to any wood finish that is designed to soak into the wood and seal from the inside out. It typically refers to oils like mineral (think food-safe for your butcher block) or Danish (think antique furniture), are very easy to work with, but unfortunately provide very little protection. Stain is also referred to as penetrating finish, though stain's only job is to change the color of the wood, not to offer any protection.
Topcoat Finishes  
These finishes are designed to not soak into the wood, rather sit on top and offer protection from the outside. These include common clear finishes like varnish, lacquer, and polyurethane, as well as pigmented finishes like paints, and come in different sheens from matte to high gloss. Clear topcoats are used to seal raw wood for a natural look, or sprayed over top of stain to lock in the color and ad protection. 
Water-based vs Oil-Based 
While the industry had sworn by solvent-based finishes for most of the 90s and 2000s, the once-suspect durability of water-based finishes has made significant improvements, and now the two are both very common in most US cabinet shops. Waters typically leave a more opaque, white, and lighter finish, while solvents leave a more warm, amber, and darker hue.
For example, the image on the right is white oak finished with a water-based clear varnish and the image on the left is white oak finished with a solvent-based clear varnish. You can see how different the two hues are, though both white oak, and both with a "clear" finish. Knowing the difference between the two can help prevent often costly and frustrating miscommunications with your cabinet company.
Catalyzed Coatings 
Professional grade finishes are very common in kitchen and bath cabinetry as they are developed specifically to hold up against high wear, scratches, humidity, and common household cleaners. They are designed to be sprayed on with a automated machine or a skilled finisher, dry and cure very quickly to become extremely durable, are very smooth to the touch, and often have a multi-decade warranty. This applies to both stained and painted finishes. In fact, most professional cabinet finishers don't actually use "paint", rather a product called a pigmented topcoat. 

This is very different from the paint you buy at a hardware store and use on your walls, so be sure to get clarification from your finisher or cabinet maker on the exact type of finish they plan on using.
Chemical Resistance Evaluation
I would also encourage you to ask them for the Chemical Resistance Evaluation. This is an industry test done where common household liquids (red wine, boiling water, nail polish remover, etc) are allowed to stand for 24 hours, wiped away, and the damage if any is noted. We only want to use finishes that have 'good' or 'excellent' resistance in the majority of the categories. This will ensure your cabinets have the best durability available, and can withstand the daily wear and tear of a kitchen or bathroom.
How The Process Should Work 
Whomever is finishing your cabinets should be able to look at several inspiration photos you have and create samples close to that finish (if they're unable to do so, that is red flag #1). A lot of cabinet shops will have finish samples from past projects that they could use, as well. Usually, 3-5 good examples within the color family you're wanting. Some will be way off, others very close, and we then start to hone in on the perfect tone.
Once the color is finalized, that full finish (stain, topcoat, glaze, etc) goes onto a sample of your exact door style. This step is incredibly important to both see a larger sample door with multiple pieces and shades of wood, and sometimes having both veneer and solid wood (if you're staining something other than cabinets like beams or a mantle, use as large a sample as possible). Once approved, this then acts as the finish control for the entire project to ensure that expectations are aligned and that there are no surprises later in the process. This is standard procedure for any good builder or cabinet shop and something they will be eager to walk you through.
Want more from the Author...?
Corbin Clay