So You Want To Build Your Home… But How Are You Going to Pay For It?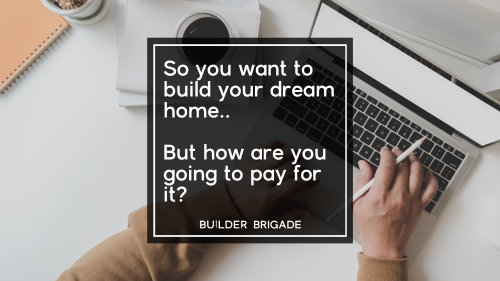 Author: Jennae Leisey
Construction loans are nothing new to the financing world, although they can sometimes be harder to find because they are high risk, and some lenders don't want to take that risk. I have worked in real estate for over fifteen years, however, when it came to financing my own construction project, I struggled to find lenders who not only offered a construction loan but had built a home before. It's one thing to sell a loan product but another to truly understand how they function. So, I am here to share my lending knowledge with YOU! Whether you think you are ready to take this on now? Or maybe planning for the future, a construction loan can help you achieve the goal of buying land and building your dream home.
So where do you start?
Step 1. Get A Pre-Approval.
In lending and real estate, we always say to 'start with a pre-approval first'. Let's find out how much you can qualify to build. Let your lender know your plans and goals even if you don't own the land yet! They can answer some initial questions about the process and even guide you toward preferred contractors. Construction loans work in three parts. We approve of you as a borrowing client, we approve your contractor, and lastly, we approve your project. So, if we can start with you first, the rest follows easily. It's during this phase that we talk about some of your plans (i.e., where will you be living during the build, what's your plan with your current home, etc.).
Step 2. Find a Contractor.
Once you know what amount you qualify for and where you feel most comfortable, now is the time to talk to a contractor. Bring them your Pinterest board! Show them what your vision is and talk about realistic costs bringing that vision to life. Sometimes what you show them can shoot your budget through the roof or they may have creative ideas to get your vision using different materials to save on costs.  Without having those lender conversations from the beginning, it's hard to keep everyone on the same page with what your end goal is. Maybe you cannot afford to put that outdoor kitchen in now? That contractor can make sure you are plumbed for gas, power, and water out there now so that when that can come back in the budget, you are ready for it!
Step 3. Find the Land.
If you haven't already found land earlier in the process now is the time to connect with a licensed real estate agent and look! Sometimes the land you find can restructure a loan or change the plan a little so it's important to have an idea as early on as possible and share your plans with your agent. What are your goals with the property short term? Long term? Do you want to build an ADU? Do you want to raise animals? Do you want to find a small lot in a subdivision? Maybe there are HOAs that limit what you can do with your design? All important things to think about and talk with your realtor, lender and contractor.
Step 4. Make a Plan and Connect back with your Lender.
Once your contractor knows your vision, your goals, and your budget, it's time to go back to the lender! Now armed with the construction plan, your lender can work with you to determine the best course of action. There are a few different construction loan types. The most common right now being a single close construction loan.  This loan type can finance your land, project costs, and contractor costs. If you already own your land by this point, great! If you have a land loan left on it, the construction loan can pay that off in the first draw. Although construction loans are higher risk loans and typically more expensive than a traditional loan, they allow for a lot more flexibility.
Although this process is not turnkey and simple like finding a home already on the market, it's such a rewarding experience to build your own home to your liking! Want to know more about the construction loan process? Reach out and we can chat!
Construction Lending
NMLS# 1964390
DRE# 02208726
916-802-7069
JLLends.com
Jennae@JLLends.com